Meet Tammer & Donna
We are a husband and wife team, (Tammer and Donna – nice to meet you) with three kids under 12 and a passion for craft beer. Family run and owned, we value our customers above all and view them as an extension of our family. HOW OUR EPIC ADVENTURE BEGANAs NA drinkers we had accepted that we wouldn't be enjoying the mosaic of craft beer styles on the market. (See our Top 5 Reasons for making Non-Alcoholic Craft Beer here.) However, after a major life change – a diagnosis and successful treatment for breast cancer, we wanted to celebrate a new chapter in our lives with a non-alcoholic beer. We were wildly disappointed by what was on the market and, to be honest, we felt excluded.
Knowing that there were others who felt excluded from the diverse craft beer scene as well, we started homebrewing a recipe for a non-alcoholic craft beer. It had to be something we would be proud to celebrate. It had to be bold, complex, and worthy of sharing with friends. It had to be different. Read all about the health benefits here.
It took a while, but after 9 months our flagship Chandelier Red IPA was born and launched in June of 2018. It won a gold medal in the World Beer Awards and was picked up by a national retailer within the first two months of its release. Since then our brews have gone on to win the 2019 World's Best Non-Alcoholic and Low-Alcohol Award, Gold medals for Best Pale and Best Dark NA in the U.S., and bronze in the U.S. Beer Championship becoming the first U.S. beer in this category to win an international award. AT THE FOREFRONT OF THE NA CRAFT REVOLUTIONFrom the first ultra-low calorie & gluten-reduced non-alcoholic beers: Red IPA (33 cals) and Kolsch (17 cals) and the first Hazy IPA: Juicy Mavs (25 cals), the first non-alcoholic beer made with ancient Kveik yeast: Creatives IPA (44 cals) and the first Milkshake IPA ( 65 cals), we challenge ourselves every day to think differently, bring new true-to-craft brews to market, and push the boundaries of the non-alcoholic craft beer industry.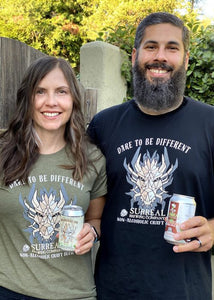 No de-alc machines. No shortcuts. Just genuine craft brewing.
No need to drink it ice cold. We take the time to brew genuine true-to-craft beers that follow the craft beer rules. They are best consumed at cellar temperature, between 55° – 65° F where the flavors continue to open up from your first to your last sip.
At Surreal Brewing we think differently. We don't stop the yeast from creating delicious esters or boil out the alcohol. We care deeply about our customers. We've developed a patent pending innovative brewing process that allows all of the great all-natural, non-GMO beer ingredients to shine.
We make a purposeful, complex beer with flavor profiles containing a distinct beginning, middle and end and believe you deserve a craft beer you can take the time to enjoy without the fear of how it might taste as it warms up.
Health Forward. Inclusive. Freedom to Choose NA.
We launched our ultra low calorie beer line with the future in mind, which is health centered. That's why from the beginning we brewed zero sugar, low carb, low calorie, gluten reduced options. No one is excluded. You can enjoy craft beer and maintain your health and wellness goals.
We proudly display how much sugar is in our brews because we think it's important to know what you are putting into your body. We encourage other beverage makers to do the same. We believe that if you choose to drink non-alcoholic, you should still be able to have a complex tasting beer without all of the calories and sugar.
Cheers to your health!